This is a special note to you that owned pieces of my work that were lost in hurricane Ike in 2008
I know I sold many watercolors of places and things around Bolivar Peninsula and seabirds, etc. that were lost in the hurricane. I probably don't have the exact pictures anymore except some of the prints of the Elissa and the lighthouse on Bolivar, but I sure can paint more. I hope that if you are rebuilding on crystal beach or Galveston, you will contact me about painting some replacement pictures. I surely will work with you on the pictures and the price of them.
I am a member of the River Art Group (RAG) in San Antonio, Texas. The RAG has been around since 1947. The RAG has our own co-op gallery located in the La Villita area near the river walk in San Antonio. We have over 300 members who all live and work in the San Antonio area. Each year the RAG holds a member competition in which all members can enter up to 3 pieces of their recent work in the competition. This includes painting (oils, acrylics, watercolors, mixed media, etc.), collage, pottery, glass, jewelry, fabrics, wood and wood carving, etc. This year I entered one of my 2011 paintings "Gateway to the Laguna Madre". Our judges are non members of the RAG and are generally other artists, gallery owners, art instructors, etc. My watercolor was awarded Best Of Show. This is, for me, is a very prestigious award that I am very proud of. The framed picture is 34" X 27" and is for sale. Cost of the picture is $ 800.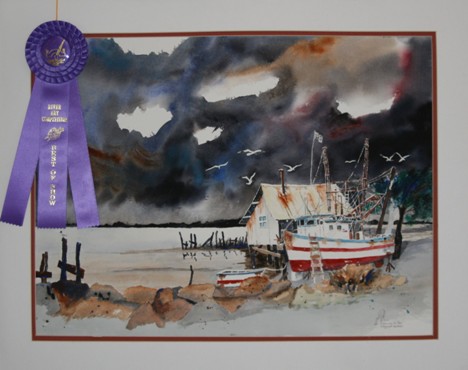 HOWDY! I am an old geezer who grew up on the Texas coast and lived there most of my life. I was a lifelong pen and ink artist until I became enamored with watercolors about 25 years ago. I seldom do anything else now. Maybe it sounds strange, but Mary Ann and I now live in the Texas hill country where I have my studio on top of a hill and I continue to paint seascapes, shrimp boats, seabirds, and lighthouses. I am beginning to paint some of the hills, barns, goats, cactus, and chickens around here in the hill country, but I will always go back to the coast to paint what I have painted all my life. I hope you enjoy looking at some of my work and if you have questions or you are interested in purchasing some of my work, please E-Mail me. I'll try to change these pictures when I have time and give you some new ones to look at. I will continue to go to art shows around the state and exhibit, but this internet sure makes it easier than driving all over the state and setting up in wind, rain, heat, cold, tornadoes, etc. Send me your comments if you will. I would appreciate it if you would sign my guest book and let me know what you think about my work, your work, whether it rained today or not, if you are wearing your favorite blue shirt today, or whatever else might pop into your mind that you would like to unload on me. I quit taking credit cards for a while and now I am again taking Visa, Master Charge, American Express and Discover credit cards.
I now have several Giclee' reproductions. These reproductions are printed on similar or the same watercolor paper I painted the original paintings on. They are "state of the art" reproductions that, if they were not different size than the original paintings, it would be hard to tell them from the original paintings. I just added a couple of "new" watercolors at the end of the "Sea and Boats" gallery. I have a bunch more done but I hate taking all the time it takes to put stuff into the web page - I would rather be painting, picking my banjo, or watching the hills out here.
I just exhibited at the 35th Official Texas Arts and Crafts Fair in Kerrville, Texas, Memorial day weekend, as I have the past few years. This was a good show, with only Texas artists. I think the show is limited (by jurying) to about 200 artists, so only the finest Texas artists exhibit there. At this show on Friday night there is always a preview showing with wine tasting, etc. I hope you can come visit with me there some year - I plan to be there every year. I will be entering some more shows during the year and I will let you know where and when in this area of my web site. I recently (last year) exhibited at the Rockport, Texas Art Festival on July 3 & July 4. I didn't go this year because it is always so hot and everything I own is full of sand when I get back, but I will probably apply again in the future. We had a good show down there.